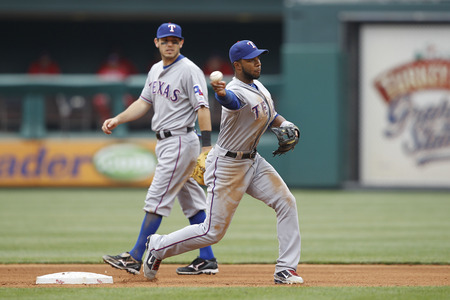 The American League West looks to have two pretty good teams next year. Most of the offseason talk has been about the Los Angeles Angels and the Albert Pujols and CJ Wilson signings. The Halos look to have a much improved team, but I wouldn't count out the Texas Rangers. Besides Wilson, this is the same team who has went to the last two World Series. With the Oakland Athletics and Seattle Mariners in sorry shape, these two teams look like 90 win plus teams.
Even with Pujols the Angels offense is still not as good as the Rangers. The Angels did not have a .300 hitter last year and Howie Kendrick was the only player with a OPS better than .800. The Rangers had 3 regulars with a .300 plus average, 6 with a OPS higher than .800, 5 with 25 or more home runs, 2 100 RBI hitters, and two players with more than 30 steals. Rookie 1B Mark Trumbo led the Angels with 29 homers and 87 RBIs but also had a subpar .291 OBP and will move to 3B or DH next year. Torii Hunter and Bobby Abreu had down years, and Vernon Wells had a terrible season last year. Here's a lineup comparison below:
Rangers
Ian Kinsler, 2B
Elvis Andrus, SS
Josh Hamilton, CF
Michael Young, DH
Adrian Beltre, 3B
Nelson Cruz, RF
Mike Napoli, C
Mitch Moreland, 1B
David Murphy/Endy Chavez, LF
Angels
Erick Aybar, SS
Howie Kendrick, 2B
Albert Pujols, 1B
Torii Hunter, RF
Bobby Abreu, DH
Mark Trumbo, 3B(could be Alberto Callaspo)
Peter Bourjos/Mike Trout, CF
Vernon Wells, LF
Chris Ianetta, C
Pujols doesn't have nearly as much protection in the Angels lineup as he did last year in St. Louis. Last season the Angels scored 667 runs compared to the Rangers scoring 855. Pujols will help narrow the gap, but the Rangers still have as superior offense. The Rangers also have a top notch defense, especially with infielders Beltre, Andrus, and Kinsler. The Angels defense has some bright spots, including Gold Glove SS Aybar, Hunter, and Bourjos. Trumbo might be a liability at third, but overall its a good defense.
The Angels do have a awesome rotation that includes Jered Weaver, Danny Haren, Wilson, and Ervin Santana. This ranks with the best rotations in baseball. Their bullpen is kinda shaky with closer Jordan Walden blowing 10 saves last year. Lefty Scott Downs did have a 1.34 ERA last year and is a solid option as a reliever. Walden was a rookie last year and made the All Star team, but needs to do better. However, the Angels rotation is the biggest strength of their club and should keep them in alot of games.
The Rangers starters aren't as impressive, especially without CJ Wilson, but were good enough to make two straight World Series with. Derek Holland looked impressive during the World Series, and Colby Lewis has been clutch in the last two postseasons. Matt Harrison had a good regular season, but was shaky last postseason. Alexi Ogando made the All Star team as a starter, although he was moved to the bullpen for the playoffs. He pitched well until he ran into Allen Craig and the Cardinals in the World Series. Hard throwing closer Neftali Feliz is moving into the rotation next year, and the Rangers hope he can forget about blowing Game 6 and rebound as a starter. Joe Nathan was signed to be the Rangers closer, with Mike Adams, Scott Feldman, and Darren Oliver returning to form a solid bullpen. Its also possible the Rangers add a veteran starter like Roy Oswalt or make a trade for one.
The Rangers/Angels rivalry looks to heat up in the next few years, especially with Wilson defecting to the Halos. The Athletics and Mariners are still weak clubs, and the Astros are moving here in 2013 so these two clubs look to be the class of the division for awhile. Both teams have strong farm systems and money to spend, especially Los Angeles. However, I was impressed by the Rangers play this postseason and they were a worthy adversary to the Cardinals this past World Series. As a Cardinals fan I will be rooting for the Rangers to win the AL West next season because of that and because Pujols chose to take the Angels money instead of staying loyal to the defending World Champion Cardinals.