10) Pittsburgh Pirates
The Pirates wore some flashy uniforms in the 70s, with 6 different combinations of gold, black, white, and a couple of pinstriped ones. These uniforms remind me of my little league uniforms and look similar to the Steelers as well.During the 1979 We Are Family Pirates team Willie Stargell would award stars for good plays for his teammates to put on their hat. Maybe these uniforms were good for the Bucs, 1979 is the last time they won the World Series.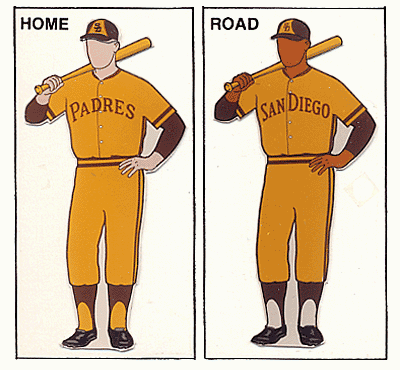 9) San Diego Padres
The Padres wore these for two seasons during the early 70s. Dave Winfield debuted in these mustard uniforms in 1973. I like some of San Diego's later ones, like the one they had when Ozzie Smith was a rookie, but these uniforms are terrible.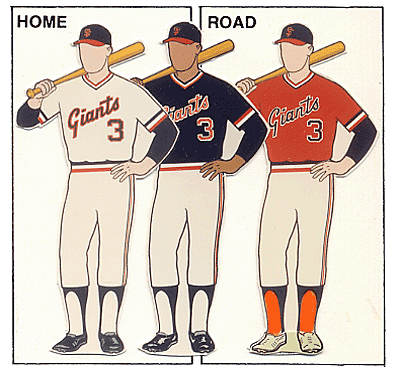 8) San Francisco Giants
The Giants wore these for about 5 to 6 seasons in the late 70s and early 80s. Willie McCovey hit his 500th home run wearing this.
7)Seattle Mariners
These were the Mariners original uniforms from 1977.
6) Chicago White Sox
The White Sox introduced these uniforms in 1982 and wore them through much of the 80s. The Sox have had numerous uniforms through the years, including shorts breifly in the 70s, but these are the worse. Tony La Russa went to his first postseason in 1983 wearing this, and Carlton Fisk, Harold Baines, Tom Seaver, Ozzie Guillen, and Steve Carlton wore this at some point during their careers.
5) Anaheim Angels
These were the Angels uniforms when Disney owned the team. Plenty of Cardinal players of the past have worn this uniform including Jim Edmonds, Chuck Finley, David Eckstein, Adam Kennedy, Troy Percival among others. They changed back to a more traditional look in 2002 and won their first World Series that year.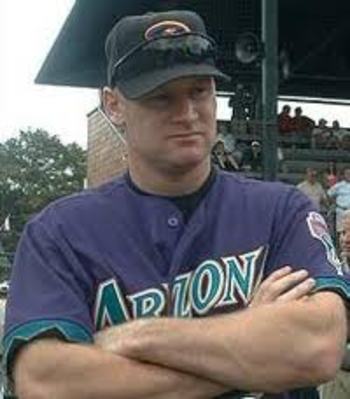 4) Arizona Diamondbacks
The Diamondbacks have had alot of uniform combinations during their 14 year history, this one being the worst by far. The black one was pretty ugly as well.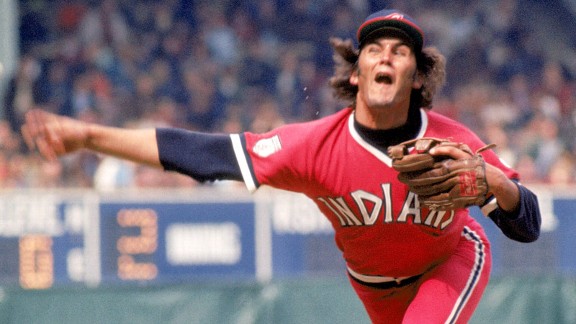 3) Cleveland Indians
The Indians wore these in the mid-70s when Frank Robinson was player/manager. This pitcher has a pained face, it must be from having to wear an all bright orange uniform.
2)Tampa Bay Devil Rays
These were Tampa Bay's original uniforms when they came into the league and were known as the Devil Rays. These look like minor league uniforms instead of big league ones. The multi colored "Devil Ray" part is the worst. Wade Boggs is seen celebrating his 3000th hit in this uniform and that was probably the most significant thing that happened for this franchise while sporting these unis.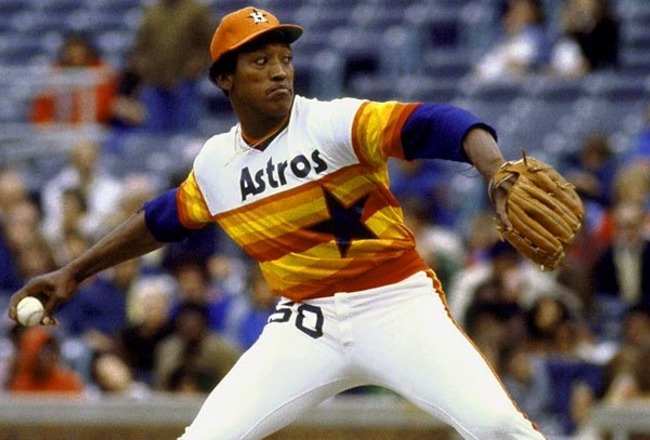 1) Houston Astros
The Astros uniforms of the late 70s and early 80s might be the worst ones ever. The Astros had some good teams during this time and had some pretty good pitching as well. JR Richard is in the above photo and would of been a Hall of Famer if not for a career ending stroke in 1980. Nolan Ryan, Mike Scott, Joe Niekro, and Don Sutton sported the rainbow unis at various points. The Astros used this for home and road games, so Astros players had to wear these for all 162 games.
The Miami Marlins new uniforms are pretty bad as well, and I almost put them on this list.