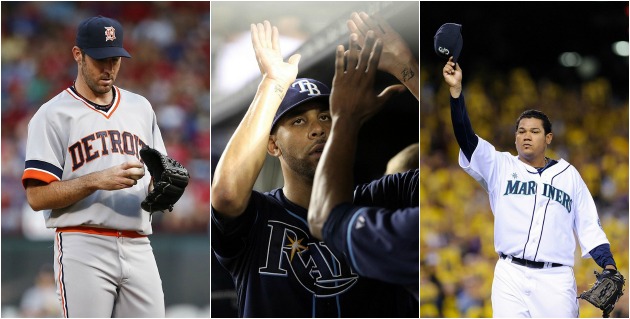 In the last few seasons, there has been a renaissance of pitching in baseball. There are many elite pitchers in the game right now, and there are a lot of young arms coming up from the minors. Pitchers like Justin Verlander, Felix Hernandez, Jered Weaver, Adam Wainwright, Zack Greinke, Cole Hamels, and Matt Cain have all signed huge contracts within the last couple of years. Younger pitchers like Clayton Kershaw, David Price, and Stephen Strasburg will certainly cash in at some point. So, who is the best pitcher in baseball? That's a debateable topic with several possible answers. I did some research and looked at what each pitcher has done from the beginning of the 2010 season. I included up to Tuesday's games this year, but did not include any postseason games.
Wins
1) Justin Verlander 60-23
2) CC Sabathia 56-22
3) Gio Gonzalez 53-29
4) David Price 51-25
5) Jered Weaver 51-26
6) Roy Halladay 51-26
7) Clayton Kershaw 50-24
8) Tim Hudson 50-26
9) Yovani Gallardo 47-26
10) Ian Kennedy 46-26
Innings Pitched
1) Felix Hernandez 729.1
2) Justin Verlander 726
3) James Shields 692.1
4) CC Sabathia 687
5) Clayton Kershaw 681.1
6) Matt Cain 674
7) Cliff Lee 672.2
8) Jered Weaver 659.2
9) David Price 655
10) Dan Haren 654
Strikeouts
1) Justin Verlander 719
2) Clayton Kershaw 705
3) Felix Hernandez 688
4) Tim Lincecum 652
5) James Shields 649
6) Cliff Lee 644
7) CC Sabathia 633
8) Cole Hamels 628
9) David Price 618
10) Yovani Gallardo 617
ERA
1) Clayton Kershaw 2.50
2) Jered Weaver 2.77
3) Justin Verlander 2.78
4) Cliff Lee 2.85
5) Josh Johnson 2.90
6) Felix Hernandez 2.91
7) Johnny Cueto 2.93
8) Matt Cain 3.02
9) RA Dickey 3.04
10) Gio Gonzalez 3.06
WHIP
1) Clayton Kershaw 1.04
2) Jered Weaver 1.04
3) Cliff Lee 1.04
4) Justin Verlander 1.05
5) Matt Cain 1.05
6) Roy Halladay 1.10
7) Felix Hernandez 1.13
8) Cole Hamels 1.13
9) Mat Latos 1.14
10) Adam Wainwright 1.15
I went into this thinking Justin Verlander was the clear cut best pitcher in baseball, but one could make a case for Clayton Kershaw or even Felix Hernandez. Verlander got most of the attention after winning the Cy Young, MVP, and pitching Triple Crown in 2011, but Kershaw had a great season as well. Kershaw won the pitching Triple Crown for the National League in 2011 as well as the Cy Young Award. He followed up by leading the NL in ERA and WHIP in 2012. One has to wonder how many wins would King Felix have if he pitched for a better team. The Mariners improved their offense this year, so he might get more run support. Hernandez did win 19 games in 2009, but has never won 20. He even managed to win the Cy Young Award in 2010 despite winning only 13 games. He did lead the league in strikeouts, ERA, and many other categories.
Last season, Roy Halladay and Tim Lincecum had off years. Will that continue to be a trend this year? So far, it isn't looking good, but it's early in the season right now. These two pitchers were in the discussion of best pitchers until last year. Pitchers like Jered Weaver, Matt Cain, CC Sabathia, and Cliff Lee may not be the best, but they are among the best year in and year out. Gio Gonzalez, Johnny Cueto, and RA Dickey all had breakout years last season, but can they repeat it? Stephen Strasburg will certainly be in the discussion in coming years, but he doesn't have the track record yet to be considered the best.
Right now, I would still consider Verlander to be the best pitcher in the game. Kershaw is closely behind and could pass him this season or the next. Kershaw's next contract might even top Verlander's recent record deal. I would rank Hernadez third, and he has the potential to be the best. Price and Weaver would round out my top five.