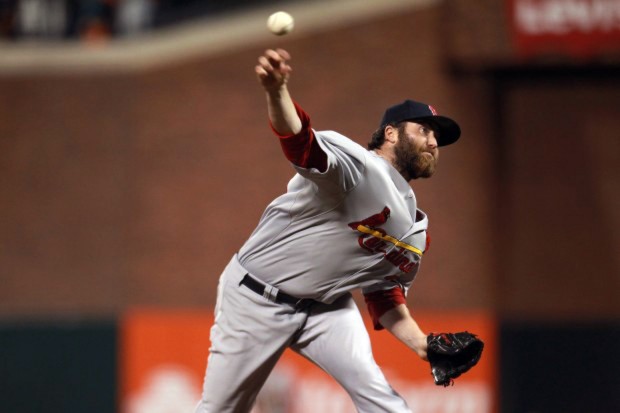 MIA: Motte's Status Uncertain This Season as Cardinals Struggle to Replace Him
The Cardinals had a solid 4-2 opening homestead and two weeks into the season have the lead in the NL Central with a 7-5 record. The starting pitching has been outstanding so far. The Cardinals pitchers threw 39 scoreless innings until it was snapped in the 8th inning of Sunday's game vs. the Brewers. Trevor Rosenthal allowed a two run homer to Ryan Braun, and Mitchell Boggs blew another save opportunity in the 9th. Fernando Salas then proceeded to allow the winning run in the 10th. With a 3-0 lead going into the 8th it looked like the Cardinals would sweep the Brewers, but they had the rug pulled out beneath them. Jaime Garcia watched a second straight start go from a win to a no decision.
The bullpen's performance early on is a cause for concern. So is Jason Motte's elbow. Motte has been shut down to the first of May and may need Tommy John surgery. Still, I don't think it's a reason to panic. Despite their struggles, there is a lot of talent in the bullpen. Boggs was a very good reliever last year, posting a 2.21 ERA. He needs to work out his struggles and Mike Matheny may go with a bullpen by committe for awhile. Rosenthal has been labeled a future closer, but he has had 3 games were he came in and allowed runs. Rosenthal possesses a 100 mph fastball and was a weapon down the stretch last season. Still, he may not be ready to be a closer just yet, as he has had some struggles as the 8th inning guy.
Edward Mujica is another possibility in the 9th. He has been lights out since joining the Cardinals last July. Mujica has a 1.17 ERA and 0.88 WHIP in 30.2 innings since becoming a Cardinal and was solid in the postseason last year. At the very least, Mujica might get some more opportunities in the 8th inning or when the Cardinals are in a jam. Sometimes, the game is "saved" in the 7th or 8th, opposed to the 9th. A set up guy sometimes comes into a tough spot with runners on. A closer usually does not in today's game, unless it's the postseason.
Matheny has two lefties to work with this season with Randy Choate joining Scrabble in the bullpen. Choate gives some stability to a team who went through JC Romero, Sam Freeman, Barret Browning, and Brian Fuentes as lefty specialists, none of them sticking. Joe Kelly has been buried in the bullpen, due to a couple of poor outings and the starters pitching deep into games. Matheny might start trying to work in Kelly more, with Boggs and Salas struggling early on. Salas actually led the 2011 Cardinals in saves, but lost the closer job to Motte in September of that year. Salas may need to go down to Triple A to work out his slump. It's possible that a pitcher like Eduardo Sanchez or Maikel Cleto could be called up.
A really good closer certainly helps a team win more games, but it is not always necessary to win. The 7th and 8th inning get overlooked and teams blow games in those innings as well. Relief pitchers sometimes go through rough patches and work it out later in the season. This is why many teams are not investing a lot of money in the bullpen and are going with young hard throwers. While I think elite closers like Aroldis Chapman and Craig Kimbrel are difference makers, and average closer is not. In recent seasons, closers like Heath Bell, John Axford, Brad Lidge, and Carlos Marmol have went from the saves leaders to bums. Even great closers like Mariano Rivera and Trevor Hoffman have blown big games in the past. Rivera played a huge role in the Yankees 5 championships and is considered to be the best closer of all time. While that gives a team an advantage, it doesn't always guarantee success.
Recent history also says having an established closer isn't a prerequisite for a championship. The Cardinals won both of their recent championships without one. In 2006, Jason Isringhausen went down in September, and then rookie Adam Wainwright was thrust into the role of closer for the postseason. Wainwright freezing Carlos Beltran with his curve to save Game 7 in the NLCS is one of the biggest moments in recent Cardinals history. Who knows if the Cardinals still would of won if Izzy would of been healthy? In 2011, the Cardinals went with Ryan Franklin, Boggs, Salas, and finally Motte as their closer. The bullpen was shaky all year, blowing many saves, but it gelled during the stretch run and in the postseason. Going back even further, the 1985 Cardinals won over 100 games with a bullpen by committee. Bruce Sutter left as a free agent prior to that season, and the Cardinal went with a mix Ken Dayley, Jeff Lahti, and Bill Campbell. Late in the season, hard throwing Todd Worrell took over as closer.
Other teams have also been able to win the World Series recently when injuries or underperformance occured with their closer. Brian Wilson played a vital role in the Giants championship in 2010. Early on in 2012, Wilson went down with an injury and needed Tommy John surgery. The Giants went with a mix of Santiago Casilla, Jeremy Affeldt, and Sergio Romo in the 9th. Romo eventually took the closer role and the Giants won the World Series again in 2012. They even used starter Tim Lincecum in relief during the playoffs. The White Sox won the 2005 World Series after Bobby Jenks replaced a tired Dustin Hermanson late in the season. The 2003 Marlins flip flopped Braden Looper and Ugueth Urbina from the 8th and 9th inning during their run to the championship. The Randy Johnson/Curt Schilling led 2001 Diamondbacks were able to win the World Series despite Byung-Hyun Kim blowing a couple games. I think the Cardinals bullpen issues will work out at some point this season. There is still a lot of talent in their bullpen.