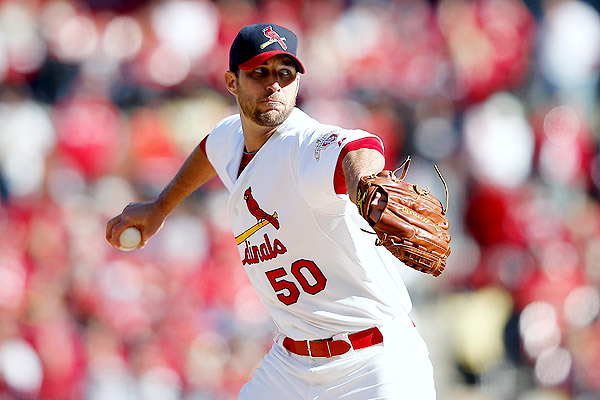 Yesterday, the Cardinals announced that they signed pitcher Adam Wainwright to a five year, $97.5 million extension that carries to the 2018 season. It is the longest contract for a pitcher in club history. Only Matt Holliday's current deal and Albert Pujols 2004-11 deal surpasses it in overall money. With Chris Carpenter's injury issues expected to force him into retirement, the Cardinals felt like they needed to lock up their #1 starter. Since losing Pujols to free agency after the 2011 season, the Cardinals have made some moves to lock up key pieces like Wainwright, Yadier Molina, and Allen Craig. They also signed Jaime Garcia to an extension right before then.
This deal carries some risk, though. This is far more money committed to Waino than his previous deal, which was a bargain. In his first post-Tommy John surgery season, Wainwright was up and down. He finished the season with a 14-13 record with a 3.94 ERA, 1.25 WHIP, and 184 strikeouts in 198.2 innings pitched. He did pitch better in the second half, especially in July and August. It took Wainwright awhile to regain his feel for his curveball after surgery. At times, Cardinal fans saw a vintage Waino, other times they saw a pitcher who was struggling. It takes pitchers awhile to fully recover from Tommy John, and the Cardinals are betting that Wainwright will this year and in the future.
Wainwright started his career in the Cardinals bullpen in 2006, his rookie season. Closer Jason Isringhausen went down, and Wainwright took over the closing duties late in the season in to the playoffs. The Cardinals went on to win the World Series, with Wainwright closing out Game 7 of the NLCS and the deciding game of the World Series. Now teammate Carlos Beltran was frozen on a Wainwright curveball in the 2006 NLCS. With many starters leaving via free agency that winter, Dave Duncan and Tony La Russa
decided to put Waino in the rotation. He threw for over 200 innings in 2007 and won 14 games on a Cardinals team that finished below .500. He missed some action in 2008, but had went 11-3 with a 3.20 ERA in 132 innings. Wainwright was on his way to becoming a dominant pitcher.
In 2009 and 2010, Wainwright was one of the best pitchers in baseball, a true ace. He led the National League with 19 wins in '09 and finished 3rd in Cy Young Award voting. While he missed out on the CYA, Adam won the Gold Glove. In 2010, he had a even better year, winning 20 games, posting a 2.42 ERA. Wainwright still finished 2nd in the Cy Young to Roy Halladay. He made his first All Star team in 2010 as well. Big things were expected in 2011, possibly finally winning the coveted Cy Young Award. Unfortunately, Wainwright felt elbow pain in spring training 2011 and was forced to undergo Tommy John surgery, missing the entire season. Even worse for Wainwright, he missed out on a championship season.
So, what to expect from Wainwright this season? A pitcher who will contend for the CYA, or a innings eater who isn't as dominant? I think that Wainwright will be better this season and will lower his ERA quite a bit. He will have a better feel for his curveball, which is one of the game's best. Will he be able to be the pitcher he was in 09-10? That remains to be seen. At the very least, Wainwright is the staff's unquestioned ace and leader. He will be a mentor to Jaime Garcia, Lance Lynn, and Shelby Miller, much in the way Carpenter and Daryl Kile were in the past for St. Louis.
Other Cardinal Notes: Both closer Jason Motte and third baseman David Freese will start the season off on the disabled list. Ryan Jackson will make the opening day roster, with Matt Carpenter expected to fill in for Freese. Carpenter will also play second base at times, especially when Freese comes back. Mitchell Boggs will fill in as closer in Motte's absence, with Edward Mujica and Trevor Rosenthal taking on Boggs' eighth inning setup role. Shelby Miller has won the fifth starter competition, beating out Joe Kelly. Kelly will pitch out of the bullpen.