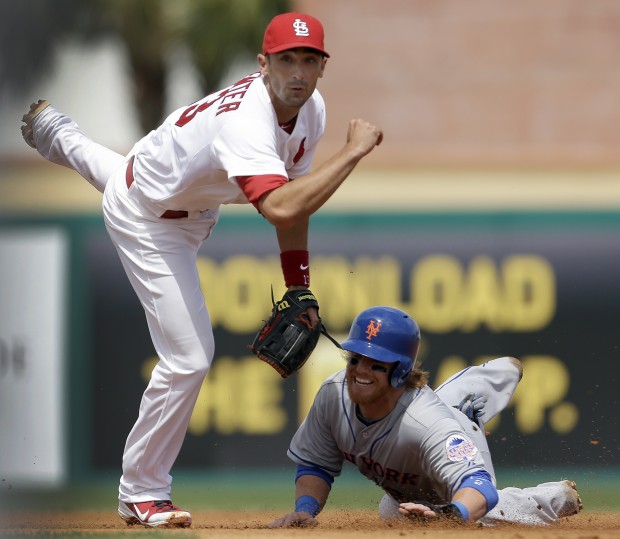 Matt Carpenter: This Year's Second Baseman?
Coming into spring training, there were few questions heading into the season. Most of the roster was set, and the major competition was who was going to be the last guy on the bench and in the bullpen. Second base was the biggest spot up for grabs, with Daniel Descalso returning and Matt Carpenter learning how to play the position in the offseason. However, since then it has been announced by the team that pitcher Chris Carpenter and shortstop Rafael Furcal will miss the entire season due to injuries. This has opened up new competition for shortstop and for the fifth spot in the rotation.
Last season, second base was clearly the weakest spot on the team. Out of spring training, Mike Matheny went with a platoon of Descalso and Tyler Greene. Skip Schumaker joined the mix later in the year when he came off the DL. Descalso wound up playing the most games there, but only hit .227 for the season. Greene was never able to harness his talents in the big leagues, and after a miserable game in August was sent to Houston. Skip was traded to the Dodgers during the offseason, and the Cardinals signed veteran utilityman Ty Wigginton to replace him.
While Descalso is cleary the best defensive second baseman on the roster, I think the Redbirds will go with Carpenter as their main second baseman this year. They'll sacrifice some defense, but gain a lot more offense. Carpenter hit .296 last year in part time play with some power, and can also play first, third, left, and right field. Considering that Carpenter has experience playing the infield, it should be a better conversion than converted outfielder Schumaker. Descalso will also get some time at second, but with Furcal out, he will likely see some more time at short this year. 2011 first round pick Kolten Wong will likely start out in Triple A Memphis, but it is possible he could be in the majors later this season.
In Furcal's absence, Pete Kozma will likely be the starting shortstop heading into the season. The Cardinals also signed journeyman Ronny Cedeno, who's spot on the major league roster is not guaranteed. Kozma hit .333 in 72 at bats in September and had some key hits in the postseason last year. However, Kozma's fielding in the NLCS was brutal last year. He was the Cardinals 2007 1st round pick, but was leapfrogged by Ryan Jackson last season in Triple A. However, it seems that Kozma has leaped ahead of Jackson on the depth chart since then. Kozma is also a career .236 hitter in the minor leagues, but has hit .341 this spring. It is unclear how Kozma will fare in the big leagues, and I would expect Descalso to be the backup. With every other position having a good bat, the Cardinals could make do at short. However, if this isn't working out come July, I would think John Mozeliak would make a move.
For the fifth spot, it is a competition between Joe Kelly and Shelby Miller. Trevor Rosenthal was also considered, but he will open the season in the bullpen. Rosenthal opened some eyes in the organization last fall. He was dominant out of the bullpen, and could be a future closer. Rosenthal can reach 100 mph, and he still could be a starter. The Cardinals said it's very possible he could follow the path of Adam Wainwright and Lance Lynn, who both started out in the bullpen. Last week, Kelly started a game and Miller relieved, and this week Miller will start and Kelly will relieve. Kelly has the edge in big league experience, but Miller has the higher ceiling.
Kelly started 16 games for last season's club, and had a respectable 3.53 ERA. Miller struggled in Triple A in the first half of last year, but rediscovered his form in the second half. Miller started using his off speed pitches again. Miller also pitched 6 shutout innings against the Reds in the season finale last year, his only start. It's not certain who will win this spot yet, but I would expect both pitchers to start games for St. Louis this year. One thing is certain, Miller will not be pitching out of the bullpen. He will either be in the Cardinals rotation or in Memphis' rotation. If Kelly is not in the rotation, he will likely be in the major league bullpen. That would leave Fernando Salas as the odd man out in that scenario.
One last note: The Cardinals made a terrific move by signing Allen Craig to a 5 year, $31 million deal with a option for 2018. If the option is picked up, it will take him to his age 33 season. The Cardinals have locked up Craig through most of his prime years at a discount rate. In only 119 games last year, Craig hit .307, slugged .522, hit 22 doubles, and 92 RBIs. He was 7th in the National League in batting average and slugging. Imagine if Craig plays a full healthy season, what type of numbers he would put up. Craig had a higher average, OBP, and slugging than Albert Pujols last year at a fraction of the cost. Even with his new deal, Craig averages $6 million a season, and Pujols averages $24 million. Craig said he signed the new deal because he liked playing in St. Louis. While he could of got more money if he waited, he said after his knee injury in Houston two years ago, he knows his career could be over in a instant. Hopefully, he can avoid injuries and put up some big years as the Cardinals first baseman.
Miller and Kelly, Fifth Starter Candidates