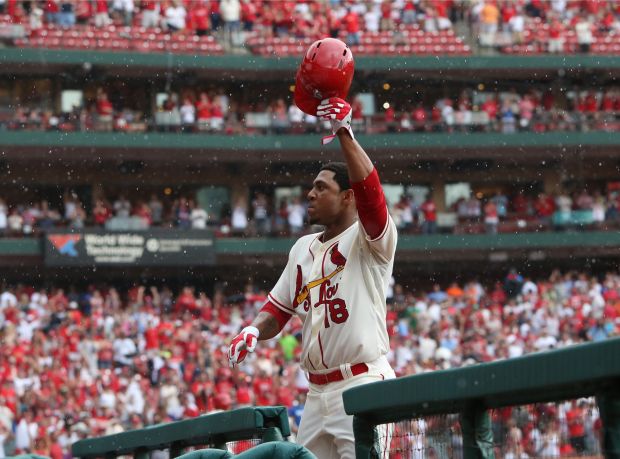 Cardinals 22 year old right fielder Oscar Taveras had just completed an up and down rookie campaign this year. Taveras had been a much heralded prospect who was compared to Albert Pujols and Vladimir Guerrero. Highlights of his 2014 season include a home run in his major league debut and a pinch hit home run during Game 2 of the NLCS. Taveras also had some difficulties during the past season, including some defensive lapses. Tragically, on October 26th, Taveras and his girlfiend Edilia Arvelos died in a car accident in the Dominican Republic.
Taveras' death shocked his Cardinals organization and all of baseball. Taveras had been close to players like Carlos Martinez and Kolten Wong, who played with him in the minor leagues. He was also liked by veterans such as Jon Jay and Yadier Molina. Two players who played in the World Series had been close to Taveras. The Giants Juan Perez had tears in his eyes when he found out about his death during Game 5 of the World Series. Perez later entered the game, and hit a triple. The Royals Yordano Ventura put a tribute to Taveras on his hat, then went on to get the win in Game 6.
At a young age, Taveras wanted to become a big league star. His father, Francisco Taveras had played minor league ball in the Brewers organization. Oscar would tell his father, "I'm going to make you the happiest father in the world. I want to be a star. I want to be a major leaguer. I'm the phenomenon. I'm the best." Taveras was known as "El Fenomeno" or the Phenomenon in his hometown of
Porta Plata, Dominican Republic
.
Unfortunately, Taveras never got a chance to realize his potential. A combination of a wet road and traveling too fast led to Taveras losing control of his 2014 Camaro, which ran off the road and hit a tree. Two young people lost their lives way before their time. Taveras also leaves behind a one year old son, Oscar Yadier Taveras.
Taveras is the third active Cardinals player to die since 2002. Daryl Kile had died in his hotel room in Chicago during the 2002 season of a heart attack. Josh Hancock died in a drinking and driving accident during the 2007 season. Cardinals manager Mike Matheny was the team's catcher during the 2002 season, and along with then-manager Tony La Russa helped the team cope with the tragedy of losing a teammate. Matheny will be in a similar position during next season. Matheny, GM John Mozeliak, Molina, Martinez, and Matt Carpenter all traveled to Taveras' hometown to attend his funeral on October 28th.
Cardinal fans will never know how good Taveras could have been. He was billed as the Cardinals best hitting prospect since Pujols, and compared to a left handed Vladimir Guerrero. Like Guerrero, Taveras was a good bad ball hitter, and had a rare ability to effectively hit pitches out of the strike zone. In 2011, Taveras hit .386 in A-ball. He followed up that season with another big year for Double A Springfield in 2012. Taveras hit .321, with 23 home runs, and 94 RBI's during his 2012 campaign. If it wasn't for a high ankle sprain that led to season ending surgery, Taveras would have of made his major league debut in 2013.
Taveras didn't make the big club out of spring training this year, and was passed over promotion by Randal Grichuk early in the year. In his debut on May 31st against Giants pitcher Yusmeiro Petit, Taveras hit a home run. Immeadiately after hitting a home run, it started pouring down rain that caused a 47 minute rain delay. Taveras didn't hit much after that, and was sent down on June 19th, his birthday. He would be called back up eleven days later, for good.
The trade of Allen Craig opened up a full time spot for Taveras in right field. Baseball had come easy to Taveras since signing in 2008 at age 16. His brief time in the majors had been the only time he struggled during his career. Taveras hit better, but didn't have the same passion for defense as he did hitting. He would lose playing time to Grichuk and Peter Bourjos later in the season. During the playoffs, it was Grichuk, not Taveras, who was the starting right fielder for the Cardinals.
While Taveras' did have his struggles in 2014, big things were still expected of him. The team was planning on him working out in its spring training complex in November. He was scheduled to play winter ball this December. Mozeliak and Matheny were planning on Taveras competing for the right field spot in spring training next year. Besides his enormous talent, there were other reasons for optimism. Taveras had hit .295 in September, and hit a big pinch hit home run in the Cardinals only win against the Giants in the NLCS.
Many feel like the Cardinals missed out on a future star and a potential franchise player. Taveras was compared to players who won MVP's. The Cardinals front office had previously hyped up prospects like J.D. Drew and Colby Rasmus in a similar way. Drew went on to have a very good career and Rasmus has had some moderate success, but neither player turned into stars. There's no telling what kind of career Taveras would have had. Fate had it that he would be struck down before his time.