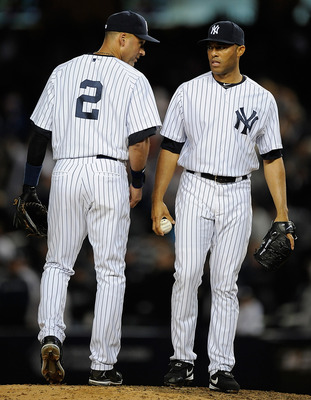 A couple of big names will be playing their final games this September, and I'm not talking about Mark Kotsay(who recently announced his retirement). Mariano Rivera had said before the season that this year will be his last. The Yankees are still fighting for a wild card spot, so Rivera may be able to stretch it out until October. Todd Helton announced that he is going to retire at the end of the season at age 40. The Rockies won't be playing in October, so Helton's career will end in a couple of weeks. Both Rivera and Helton have spent their entire careers with the same organization, a rarity in today's game. Rivera is still on top of his game, making the All Star team this year, deservedly. Joe Girardi has tried to get him to come back one more year, but the 43 year old Rivera said his mind is made up about retiring.
Rivera will certainly be a Hall of Famer come 2019. There is no doubt that Rivera is the best closer of all time. He has surpassed great closers like Rollie Fingers, Goose Gossage, Bruce Sutter, Dennis Eckersley, and Trevor Hoffman. Mo's cutter broke many of bats throughout the years and has been his signature pitch like the split finger was Sutter's and the change up was Hoffman's. A lot of closers in today's game only have a run of dominance for 3-4 seasons, but Rivera has been dominant every season. He holds the all time saves lead with 651, which is almost twice as much as the next active player, Joe Nathan. Rivera has made 13 All Star teams in 19 seasons with the Yankees. He never won a Cy Young Award, but received votes in 6 different seasons.
In the postseason, Rivera was even better. His regular season ERA and WHIP was 2.22 and 1.00, while his postseason ERA and WHIP was 0.70 and 0.76. That is through 141 innings pitched in 96 games during 16 different postseasons. Mo is 8-1 and has only blown 4 postseason saves. Rivera has a MLB record 42 saves, which matches his uniform number. When the Sandman enters, the game is almost always over. With his retirement at season's end, Rivera will be the last player in MLB history to wear #42; which was retired league wide in 1997 to honor Jackie Robinson breaking the color barrier.
The Yankees have won 5 World Series championships during Rivera's tenure with the club. In 1996, he was the set up man to then closer John Wetteland. Wetteland left as a free agent after that season, and Joe Torre put Mo in as closer. He would soon make Yankee fans forget about Wetteland. In fact, Rivera was one of the most important players(if, not the most important) of the Yankees dynasty during 1996-2001. Rivera is one of the last links of that dynasty still with New York. With Rivera retiring, Derek Jeter's status uncertain because of injury, and Andy Pettitte's career in his twilight, the Yankees will soon enter a new era.
Todd Helton played baseball and football at the University of Tennessee, and was once Peyton Manning's backup quarterback. He made his debut with the Rockies in 1997, and became the team's regular first baseman in 1998 after Andres Gallaraga left as a free agent. He would finish 2nd in Rookie of the Year voting in 1998. Helton has been on the Rockies for so long that he was once teammates with manager Walt Weiss. The Rockies have never retired a number, but Helton's #17 will likely be their first. Helton played his first 10 seasons without making the postseason, but in 2007 he finally got a taste of it. The Rockies caught fire that September and catapulted themselves to the World Series, which they would lose to Boston. He returned to the postseason in 2009, but the Rockies lost in the Division Series.
Helton had his finest season in 2000, when he won the batting title with a .372 average. It would be the first of five consecutive All Star appearances. Helton was also a very good defensive player, winning 3 Gold Gloves. He ranked among the best first baseman in the league for a ten year period, but Helton would never finish higher than fifth in MVP voting. Some people say that Helton padded his numbers in the pre-humidor Coors Field. It's true that his power numbers went down after the humidor and he hasn't hit over 20 home runs since 2005. However, Helton was always a good hitter throughout his career, as his .317 career average and .415 career OBP can attest.
At age 40, Helton's skills aren't what they used to be and haven't in several seasons. In his prime, he was a similar hitter to Joey Votto. Helton finished in the top ten in batting average in the NL 9 different occasions. He has compiled over 2,500 hits, 367 home runs, and 1397 RBI's. Still, Helton's chances at the Hall of Fame are slim and he is a borderline candidate. That's considering the backlog of really good first baseman who haven't made it. The list includes Jeff Bagwell, Fred McGriff, John Olerud, Keith Hernandez, Steve Garvey, and Don Mattingly. The list also includes PED users Mark McGwire and Rafael Palmeiro. Helton has had a terrific career and might be the best Rockies player ever, but will have a tough chance at making the Hall anytime soon. Maybe, a Veteran's Committee case.
Mariano Rivera's career stats;
http://www.baseball-reference.com/players/r/riverma01.shtml
Todd Helton's career stats:
http://www.baseball-reference.com/players/h/heltoto01.shtml