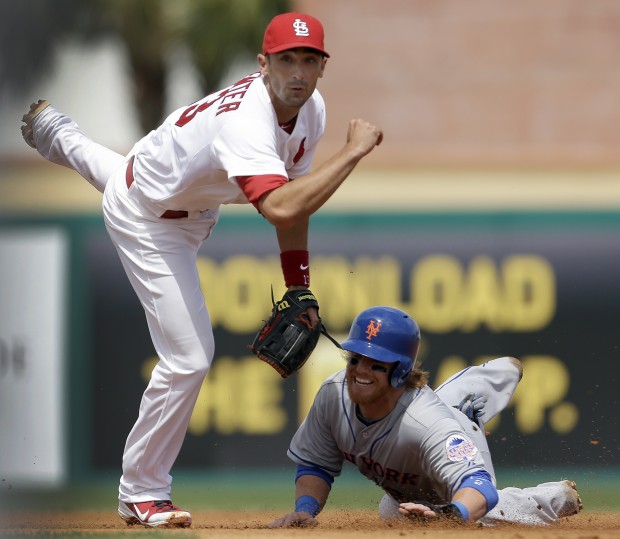 When looking at the Cardinals lineup, Matt Carpenter isn't the first guy who jumps to mind, or the second, or third. However, Carpenter is off to a great start and has been a unheralded hero for the Cardinals this season. The team is on fire since Carpenter took over the leadoff spot from Jon Jay. Carpenter doesn't have Jay's speed, but is a on-base machine. He ranks 7th in the National League with a .394 on base percentage. Carpenter also ranks 3rd in runs with 43, tied for 3rd in doubles with 17, and is tied for 8th with 65 hits. He has been a catalyst for the Cardinals, getting on base often for Carlos Beltran, Matt Holliday, Allen Craig, and Yadier Molina.
Carpenter made the team out of spring training in 2012 and was a valuable utility man for the team last year. Finishing 6th in the NL Rookie of the Year voting, Carp hit .294 last year.He played first, third, left, and right last year. Problem was Craig was the regular first baseman, 2011 postseason hero David Freese the regular third baseman, Holliday the left fielder, and Beltran the right fielder. Carpenter could sub for any of them, but lacked a regular position. Last season, second base was a weak spot with Tyler Greene, Skip Schumaker, and Daniel Descalso holding the position, with Descalso getting the bulk of the playing time. The team decided to try out Carpenter at second to get him more playing time, and possibly be the starter. Jose Oquendo worked with him in the offseason and spring training to transition to second base. The Cardinals made a similar conversion in 2009 when Schumaker was converted from an outfielder to a second baseman.
So far, it's been a smooth transition as Carpenter has fielded his position fairly well. Unlike Schumaker at second, Carpenter has not been a liability on defense. He has started 35 games at second and only made 1 error at that position this season. In his natural position, third base, Carp has made 3 errors in 15 games started there. Descalso has been moved back to a infield utility role that he thrived in during the 2011 championship season. Descalso has hit much better now that he's not over-exposed as a everyday player.
John Mabry took over as the Cardinals hitting coach this year after Mark McGwire left to be the Dodgers hitting coach. Mabry probably sees a young version of himself in Carpenter. They were both left handed, did not wear batting gloves, and had similar stances. Mabry had a nice career and played 14 seasons in the big leagues. I've compared him both to Mabry and Schumaker, but I think that Carpenter is a better hitter than both of two players. Carpenter has a legitimate case to make the All Star team this year, something those two players never accomplished.
It's not a homerish thing to say that Carpenter belongs on the All Star team this year. He won't get voted in as a starter, that will likely go to Brandon Phillips. He will have to get nominated as a reserve, which managers, coaches, and players vote on. There are a few spots directly picked by Bruce Bochy, and if it got to that point, he would like go with Marco Scutaro, who is having a fine season himself. Like I mentioned earlier, Carpenter ranks in the top ten in the NL in several different categories. Below, I will compare Carpenter to other NL second baseman to see were he ranks.
Batting Average
1) Scutaro, SF .329
2) Carpenter, STL .314
3) Phillips, CIN .296
4) Gyorko, SD .274
On Base Percentage
1) Carpenter, STL .394
2) Scutaro, SF .380
3) Walker, PIT .360
4) Phillips, CIN .347
Slugging Percentage
1) Phillips, CIN .481
2) Utley, PHI .475
3) Carpenter, STL .452
4) Murphy, NYM .441
Carpenter has a very good case to make the All Star team. As an added bonus, he is a versatile player who could be very valuable late in the game. One could make the case that Carpenter is having the best offensive season of any second baseman in the National League. At the very least he is in the top 3 with Phillips and Scutaro. Neil Walker and Daniel Murphy are good second baseman, but clearly rank below Carpenter this year. Chase Utley is injury prone and no longer the same player who used to be. Dan Uggla, Rickie Weeks, and Danny Espinosa are all hitting below the Mendoza line and having terrible seasons so far.
The Cardinals also have top prospect and second baseman Kolten Wong tearing it up in Triple A this year. Wong is hitting .337 in Memphis and has speed and some power. He won't come up until September unless there is an injury, but he will surely be ready for the big leagues next year. Carpenter could be shifted to third to make room for him, but that would leave Freese without a position. Freese has just recently started to heat up after a slow start. That's 3 players for 2 positions. At some point, the team will have to make a decision on that question. Carpenter has played himself into a bigger role with the Cardinals this season, and they will find a way to keep his bat in the lineup in the future.
Special Note: I think it was ridiculous that Yadier Molina received a one game suspension for his actions on Sunday's game. He was thrown out of the game after slamming his helmet down on a close play. Molina did not argue with the umpire before the ejection. He did lose his cool after that, but that umpire had a very short leash on Sunday.