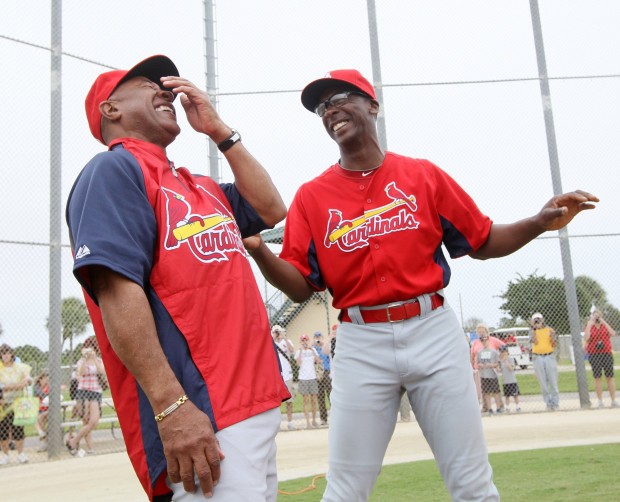 Ozzie Smith and Willie McGee at Spring Training
The Cardinals came within a game of returning to the World Series last year, but could never win that final game against the Giants in the NLCS. With first year manager Mike Matheny at the helm, the Cardinals won 88 games and clinched the second wild card spot last year. They beat the Braves, then went on to beat the Nationals in a thriller of a Division Series. Ironically, Matheny won as many games as previous manager Tony La Russa did in his first year. Even stranger, La Russa's 1996 team blew a 3-1 series lead in the NLCS. The Cardinals return most of last year's team and boast the game's best farm system. Another postseason run should be expected this year.
Additions-Ronny Cedeno, Ty Wigginton, Randy Choate, JR Towles
Subtractions-Lance Berkman, Skip Schumaker, Kyle Lohse, Bryan Anderson, Chris Carpenter
Key Prospects-Shelby Miller, Oscar Taveras, Carlos Martinez, Kolten Wong, Trevor Rosenthal
Expected Lineup
CF Jon Jay
RF Carlos Beltran
LF Matt Holliday
1B Allen Craig
C Yadier Molina
3B David Freese
2B Daniel Descalso/Matt Carpenter
SS Rafael Furcal/Pete Kozma
Bench Candidates
Tony Cruz
Adron Chambers
Kozma
Carpenter
Descalso
Ronny Cedeno
Shane Robinson
Ty Wigginton
Expected Rotation
Adam Wainwright
Jaime Garcia
Lance Lynn
Jake Westbrook
Joe Kelly/Shelby Miller/Trevor Rosenthal
Expected Bullpen
Jason Motte
Mitchell Boggs
Edward Mujica
Marc Rzepczynski
Randy Choate
Fernando Salas
Rosenthal/Kelly/Miller/Victor Marte/Sam Freeman
Catcher
Yadier Molina had his best overall season last year, setting career highs in average(.315), on base percentage(.373), slugging(.501), home runs(22), RBIs(76), runs scored(65), and stolen bases(12). He won his fifth straight Gold Glove and made his fourth All Star team last season. Molina also finished 4th in MVP voting last year. Molina also threw out 48% of runners attempting to steal in 2012. Tony Cruz returns as the backup and did a good job in limited playing time. Steven Hill and newcomer JR Towles provide insurance and will likely be in Triple A this year.
Corners
The Cardinals were able to make up for the loss of Albert Pujols last year, actually scoring 3 more runs in 2012 than they did in 2011. Allen Craig was a big reason why. Craig was limited to 119 games, but still managed to hit 22 home runs and drive in 92 runs. Craig was also 7th in the National League with a .307 batting average. Craig came back right about the same time Lance Berkman went down. Berkman hardly played at all after that. David Freese followed his historic postseason of 2011 with a All Star campaign in 2012. Freese hit 20 home runs, drove in 79 runs, and hit .293. Still, Freese is prone to slumps and has hot and cold streaks. Matt Carpenter filled in nicely at the corner spots last year and finished 6th in the Rookie of the Year vote in 2012. If Freese or Craig need a day off, the Cardinals won't lose much by putting Carpenter in there. Matt Adams is also avaliable if Craig were to go down. Adams has crushed minor league pitching, but was mediocre in limited major league time last year.
Middle Infield
This is probably the weakest spot on the team. Rafael Furcal went down with a torn rotator cuff in September. Furcal opted not to have surgery and gave it time to heal. Ozzie Smith had a similar thing happen to him in the 80's, and is advising Furcal on some changes he can make to limit the damage of it. Matheny rode Furcal hard during the season when he was healthy. He played in 121 games, the most the oft-injured Furcal has played in since 2009. In fact, Furcal has played 100 plus games only twice in the last five seasons. The Cardinals would be lucky to get that many out of him this year. Pete Kozma, Ryan Jackson, and newcomer Ronny Cedeno are the alternatives to Furcal right now. Daniel Descalso could also play there when he is not at second. Descalso is a good defender and has a knack for clutch hits, but he was overexposed last year. He batted only .227 with limited power. Matt Carpenter has been working with Jose Oquendo on playing second base, and should get some time there this year. Prospect Kolten Wong could force himself into the mix with a strong spring or good play in the minors.
Outfield
The Cardinals boast one of the best outfields in the league right now. Matt Holliday made his sixth All Star appearance last year, and led the club in runs(92), hits(177), doubles(36), RBIs(102), and total bases(298). Holliday took over as the #3 hitter last season. He is prone to fielding miscues and is a somewhat streaky hitter. Jon Jay played Gold Glove level defense in center field last year. Jay was limited to 117 games last year, but hit .305 and led the club with 19 stolen bases. Carlos Beltran led the club with 32 home runs last year. After killing the Cardinals for many years, Beltran played quite well in his first season in St. Louis. Beltran also had a healthy season last year, playing in 151 games. Shane Robinson and Adron Chambers are vying to make the club as backup outfielders. Carpenter can also play the corner outfield spots. If any of the starters go down to injury, top prospect Oscar Taveras would be called up to fill in. Taveras is regarded as a budding star by the Cardinals front office, and will surely be up by next year.
Bench
Matheny will need to give veterans like Furcal and Beltran more time off this year. Carpenter will likely play quite often this season, although it will be at different positions. Carpenter can now play first, second, third, left, and right. Tony Cruz can also play some third base along with catcher. Ty Wigginton was signed as a right handed bat off the bench. He pretty much replaces Skip Schumaker. Chambers and Robinson are probably competing for one spot, much like last year. Ronny Cedeno, Ryan Jackson, and Pete Kozma are vying for a backup middle infield spot. If Furcal isn't ready for the season, another spot will open up for one of these guys.
Starting Pitching
The Cardinals heard some bad news a few weeks ago when John Mozeliak announced that Chris Carpenter will not be able to pitch this season, and likely never again. Carpenter's right arm has been punished throughout the years and he was still dealing with a nerve problem. Kyle Lohse is still a free agent, but the Cardinals have showed little interest in bringing him back. Adam Wainwright is now the Cardinals number #1 pitcher. Wainwright won 14 games and had a 3.94 ERA in his first season back from Tommy John surgery. The Redbirds are hoping that Waino can regain his 2009-10 dominant form. Wainwright is also a free agent after this season, but I would think that the two sides would get something done before then. Jaime Garcia is the Card's only lefty, and he is coming off an injury plagued season. Garcia has had some success in the big leagues, but has not proven to be a durable workhorse. Lance Lynn won 18 games and made the All Star team, but tired down the stretch. He arrived in spring training leaner and lost a lot of weight in the offseason. Hopefully, Lynn will be more durable this year and build on last season's success. Jake Westbrook returns as the the fourth starter, and he also wore down late in the year and was shut down in September. Joe Kelly, Shelby Miller, and Trevor Rosenthal are vying for the fifth spot, and I think it's safe to say the Cardinals will have a good pitcher as their fifth starter. It's quite possible the Cardinals could need all three pitchers to start at some point this year. Kelly made 16 starts last year, but doesn't have the ceiling the other two have. Carlos Martinez is also waiting in the wings.
Relief Pitching
Jason Motte returns as the Cardinals closer and he led the National League with 42 saves in 2012. Mitchell Boggs excelled in the setup role last year, and had a 2.21 ERA. The trade for Edward Mujica didn't make a lot of headlines, but it paid off. In 26.1 innings, Mujica had a 1.03 ERA and a 0.87 WHIP. Fernando Salas played a key role in the Cardinals 2011 championship run, but struggled last year. His ERA jumped up over 2 runs, ending the year at 4.48. The same could be said about Scrabble, who went through a rough patch last year. After going through several other lefties last year, the Cardinals signed veteran Randy Choate to be their second lefty. The losers of the fifth spot battle will likely round out the bullpen.
Management
The Cardinals recently extended the contracts of both GM John Mozeliak and manager Mike Matheny. Mozeliak has overseen a team that has the best farm system in the game and has a major league team built to win. Matheny enters his second season as Cardinals manager and did a fine job last season. Derek Lilliquist took over as the pitching coach last season after Dave Duncan's retirement. While he may not be a Duncan, Lilliquist did a good job last year and during the 2011 run in Duncan's absence. Mark McGwire left to be the Dodgers hitting coach. John Mabry was elevated from assistant hitting coach to replace him, and Bengie Molina took over as the assistant.
Outlook
The Cardinals have few holes on their team. Shortstop is the biggest concern with Furcal's elbow and the lack of depth there. The Cardinals are also relying on youth in the rotation, but I think that will work out for them. This team has proven they can contend in the post Pujols/La Russa era. In the National League, the Nationals, Braves, Reds, Dodgers, and defending champion Giants look pretty tough. Even with that, I expect the Cardinals to make another run at the World Series this year.
Bengie and Yadier Molina in spring training