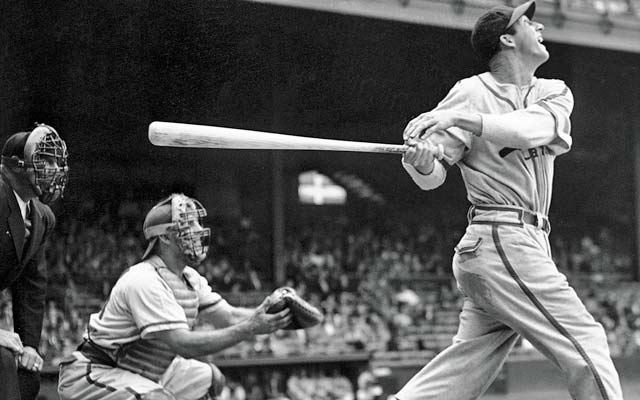 Stan Musial signed with the Cardinals in 1938 as a pitcher. He was an 18 year old from Donora, Pennsylvania then. It is the same hometown as Ken Griffey Jr. and Sr., and Musial played high school ball with Griffey Jr.'s dad. In 1940, he went 18-5 with a 2.62 ERA in Daytona Beach, a Cardinals farm team. However, he hurt his arm in 1941, moving him to the outfield. It was the best thing that could of ever happened to Musial. By September 1941, Musial was in the big leagues; batting .426 in 12 games. In his first full season, he hit .315, finished 12th in MVP voting, and the Cardinals beat the Yankees in the World Series.
In 1943, Musial had his first great season. He led the league in batting average, slugging percentage, on base percentage, hits, doubles, triples, and total bases. The Cardinals would again win the National League pennant and face the Yankees for the second time in a row. They would fall short this time. In 1944, the Cardinals were missing big stars like Enos Slaughter and Terry Moore, but they again won over 100 games and won their third straight pennant. This time it was an All-St. Louis World Series, with the Browns making their first(and only) World Series. Both teams played their home games in Sportsmen's Park, and the Cardinals beat the Browns in 6 games to win their second championship in three years.
Musial enlisted in the Navy in January 1945 and was stationed in Hawaii. He repaired ships and played in a Navy baseball league. With World War II ending later that year, Musial was discharged in March 1946. Musial only missed one season due to the war and his skills were the same afterwards. Bob Feller, Johnny Mize, Hank Greenberg, Joe DiMaggio, Ted Williams, among others also left the military and came back to the majors for the 1946 season.
Musial started hitting for more power after coming back from the military. His fellow sailors wanted to see home runs and Musial made a slight adjustment to his left handed stance. Musial didn't miss a beat in 1946, winning his second MVP. He led the National League with a .365 average, and also led the league in slugging, hits, runs scored, doubles, triples, and total bases. He also had his first season with 100 plus RBIs. The Cardinals won the National League pennant again and faced off Williams' Red Sox in the World Series. The Cardinals would go on to win a tough fought 7 game series. It was Musial's third championship, but his last appearance in the Fall Classic. Despite only being 25 and playing 17 more seasons.
It was rumored some Southern players on the Cardinals were talking about refusing to play the Brooklyn Dodgers in 1947. Jackie Robinson had recently broke the color barrier. Some reporters asked Musial about it, and he said he was playing. The rest of the team followed suit and there was no player's strike.
In 1946, new manager Eddie Dyer asked Musial to play first base. It was thought to be a temporary move out of necessity, but Musial ended up playing over 1000 games at first. He would alternate between left field, right field, and first base the rest of his career. He even played 331 games in center field.
Musial would win his third MVP in 1948, nearly winning the Triple Crown. He hit a career high 39 home runs, but finished one shy of tying Ralph Kiner and Johnny Mize. Musial did lead the National League with a .376 average, .450 OBP, .702 slugging, 135 runs scored, 230 hits, 46 doubles, 18 triples, and 131 RBI's. The Cardinals would finish a distant second to the Braves despite Musial's great season.
Starting with 1948, Musial would win the batting title 4 out of 5 times, only missing 1949. While Musial was the National League's biggest star at the time, the Cardinals were falling behind teams like the Dodgers, Giants, Phillies, and Braves. Red Schoendienst was still a top player, but many other big stars of their World Series teams of the mid-40's were declining. Marty Marion, Whitey Kurowski, Enos Slaughter, Terry Moore, Howie Pollet, Harry Breechen, and others were falling off and the Cardinals farm system fell off after GM Branch Rickey left for the Dodgers. The Cardinals were also slower to integrate than other clubs of their era. Unfortunately, the Cardinals were never good enough to get back to the World Series during Musial's biggest years.
Musial would win one more batting title in 1957 at age 36. In 1958, he got his 3000th hit in Wrigley Field, hitting a double of Moe Drabowsky. He would suffer through his worst season in 1959, batting only .255. Musial would ask for a pay cut, embarrased about his poor performance. By this time Ken Boyer had passed Musial as the team's best player. Solly Hemus was the Cardinals manager at the time, and had no use for Musial. Hemus played him part time and wanted to force him into retirement, despite that Musial was a humble guy and a good influence on younger players. Musial improved in 1960, although he was limited to 116 games.
Musial wasn't all of Hemus' problems, he also didn't get along with Bob Gibson, Curt Flood, Bill White, and some of the younger players on the team. After a slow start in 1961 and a derogatory comment about black people, Hemus was fired and replaced by Johnny Keane. Keane decided to play Musial more often and he didn't alienate younger players. This turned out to be a good move long term for the Cardinals. Keane would lead the Cardinals to a championship in 1964, one year after Musial's retirement.
Musial had one more big year in 1962, batting .330. He would retire in 1963, holding many National League records, some which are broken now. He made 24 All Star teams, won 3 MVP's, and was a first ballot Hall of Famer in 1969. He finished with 3630 hits(an equal amount on home and road), 475 home runs, 1951 RBI's, 1949 runs scored, and a .331 average. Musial is also second alltime with 6134 total bases. His number 6 was the first number to be retired in Cardinals history.
He loved to play his harmonica and even played it before a game at the old Busch Stadium. He is still considered to be the best player in Cardinal's history, with Cardinal players even today admiring him. Many other great teams and players like Gibson, Lou Brock, Ozzie Smith, and Albert Pujols have come and gone, but Musial is still the greatest of them all.
1955 Topps Card
Musial with Bill DeWitt and Tony La Russa
Musial and his family meeting with JFK at the White House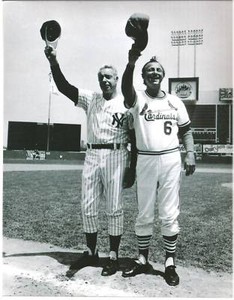 DiMaggio and Musial
Musial at a All Star Game with Aaron, Williams, and Mays
Musial in the Navy
Musial's 3000th Hit