In just six weeks, Chipper Jones will play his last regular season game. The Braves currently have a 70-51 record and hold the first wild card spot. They have the fifth best record in baseball, and are cruising right now. Last year, they were too, until a late season collapse left them one game shy of the wild card. Like last year, they are in prime position to make the playoffs. While anything can happen, I look for the Braves to have a better September this year in Chipper's final season.
Even at age 40, Chipper is having another fine season. He's been more injury prone in recent years, but has a .313 average with 13 home runs and 54 RBIs. He also leads Braves hitters with a .916 OPS. When healthy, he's still the biggest threat in the Braves lineup. Brian McCann has had a down year, only batting .227, but still hits for power. Dan Uggla is hitting even lower at .210, although he does lead the National League in walks. Freddie Freeman has played well at first base, and didn't go through a sophomore slump like Jason Heyward did last year. Heyward has had a nice rebound season, and leads the club with 20 home runs. Heyward, Michael Bourn, and Martin Prado form one of the better outfields in the NL, and a really good defensive outfield as well. Bourn also leads the NL in stolen bases.
Pitching is what sunk the Braves last season, though. Derek Lowe pitched terrible down the stretch, and Jair Jurrjens and Tommy Hanson were shelved late in the season. Lowe was traded after the season, and Jurrjens has been demoted to the minor leagues. Tim Hudson is still the rock of this rotation, and is 7 wins shy of his 200th career victory. Hanson, Mike Minor, and rookie Randall Delgado have been inconsistent this season. Brandon Beachy was having a terrific season, until he was shut down in June for Tommy John surgery.
However, this team has better reinforcements than last year. Ben Sheets has been a great pickup, he was signed earlier this season after attempting a comeback. Sheets sat out the 2011 season, but has pitched well for the Braves in 7 starts. Paul Maholm was acquired from the Cubs at the deadline. Kris Medlen has also moved into the rotation. The Braves are currently going with a six man rotation with Hudson, Hanson, Sheets, Maholm, Medlen, and Minor. Their bullpen is still really good with Eric O'Flaherty, Jonny Venters, and closer Craig Kimbrel. Kimbrel is on par with Aroldis Chapman as the NL's best closer.
Whatever does happen this year, Chipper has had a certain Hall of Fame career. He is one of the best third baseman to ever play this game. He ranks up there with Mike Schmidt, George Brett, Wade Boggs, Brooks Robinson, and Eddie Mathews. Alex Rodriguez is on that list as well, although he played half his career as a shortstop. Jones is also one of the best switch hitters to ever play this game, ranking with Mickey Mantle and Eddie Murray.
Jones has won a World Series already, during his rookie year in 1995. I'm sure he would like to win another, and is on a contending club this year. I wouldn't consider them to be the favorites, but if you get in you have a chance. Chipper's Braves teams made the playoffs many other years after his rookie season, but was never able to reach those heights again. Despite having one of the best pitching staffs ever with Greg Maddux, Tom Glavine, and John Smoltz, they always fell short in the playoffs after that.
For his career, Jones has a .304 average, .402 OBP, and a .532 slugging pct. As of right now, he has 467 home runs, 1615 RBI's, and 150 steals. He has made the All Star game 8 times, won the 1999 MVP, and was the 2008 NL batting champion. Jones has also had 9 100 RBI seasons, and this season is the 11th time he has hit over .300. In the 1990 draft, Todd Van Poppel was the highest rated amateur player. He was a pitching phenom, and told clubs he wasn't going to sign because he was going to college. The Athletics ended up drafting him and signed him, but Van Poppel was a bust(5.58 career ERA). The Braves took a safe, signable pick in Jones, who was a Florida high school star. I would say it worked out pretty well for the Braves.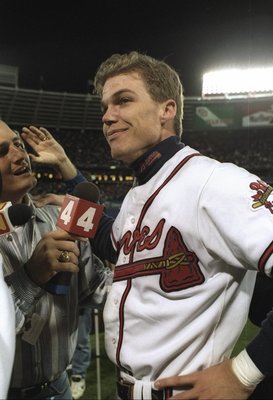 Chipper's first playoff run during his rookie year