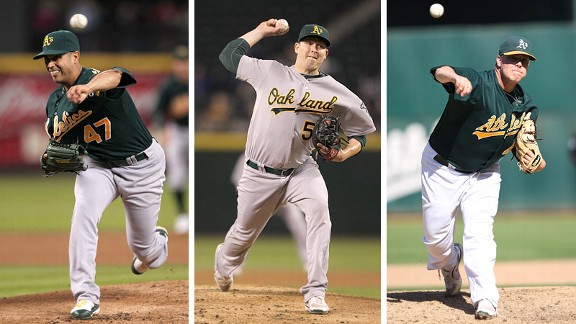 The Oakland A's traded their top three pitchers this offseason, who are in the above shot
Today, I'm going to have a quick review of the bigger trades of the offseason and how they'll effect the teams who made the moves. Not many big names traded, but there was some impact pitchers moved this offseason. Here's a top ten below
Honorable Mention: Cubs trade Sean Marshall to the Reds for Travis Wood, Astros trade Mark Melancon to the Red Sox for Jed Lowrie, Rockies trade Huston Street to the Padres for a prospect.
10) Padres trade 1B Anthony Rizzo to the Cubs for Reliever Andrew Cashner
New Cubs president Theo Epstein drafted Rizzo and their new GM Jed Hoyer traded for him as the Padres GM. They traded hard throwing reliever Andrew Cashner to get Rizzo. Rizzo played poorly in the majors last year, but hit .331 with 101 RBIs in Triple A and is rated #47 prospect in baseball. Cashner is also capable of starting and could move in that role for San Diego.
9) Mets trade CF Angel Pagan to the Giants for CF Andres Torres and Reliever Ramon Ramirez
Pagan and Torres are both similar players, defensive first center fielders with Pagan being the better hitter. Torres slumped badly last year and Pagan dropped off as well, but Pagan is 3 years younger than Torres. This is a classic challenge trade and the Mets also got a decent reliever out of this deal as well.
8) Athletics trade Closer Andrew Bailey and OF Ryan Sweeney to the Red Sox for 2 prospects and OF Josh Reddick
Bailey wasn't as sharp in 2011 after posting sub-2.00 ERAs his first two seasons. Still, a good option as closer though but the Athletics didn't want to pay his arbitration raise. They also swapped Sweeney for Reddick, who are both considered to be 4th outfielder types. Oakland also received two A ball prospects in this deal.
7) Marlins trade RHP Chris Volstad to the Cubs for RHP Carlos Zambrano
Getting rid of Big Z may be an addition by subtraction for the Cubbies. Zambrano had wore out his welcome on the North Side and maybe he can fare better with his friend and countryman Ozzie Guillen in Miami. Volstad isn't that great of a pitcher, but the Cubs are probably better off without Zambrano's outbursts.
6) White Sox trade RF Carlos Quentin to the Padres for two pitching prospects
The Padres tried to boost their offense by adding Quentin, who has hit over 20 home runs four straight seasons. But, Quentin is injury prone and will likely have a drop off in power playing his home games at Petco Park. He is also a free agent after this season. The White Sox added two pitching prospects in Simon Castro and Pedro Hernandez, who both had some struggles in the minors last year. Unfortunately for the Padres Quentin will miss the beginning of the season due to knee surgery.
5) Royals trade OF Melky Cabrera to the Giants for LHP Jonathon Sanchez and P Ryan Verdugo
Sanchez had his finest season during the Giants 2010 championship run, but dealt with injuries and inconsistency last year. The Giants also had a poor offense last year, so they felt they needed to make a move to improve that. Melky Cabrera had his best season of his career with the Royals last year, batting .305, hitting 44 doubles, and driving in 87 runs. Both players are free agents after the season.
4) Yankees trade C Jesus Montero and RHP Hector Noesi to the Mariners for RHP Micheal Pineda and pitching prospect Jose Campos
Pineda was an All Star as rookie for the Mariners last year. But, the Mariners had a historically bad offense last year, their system has alot of pitching prospects, and they were concerned about Pineda's weight. Montero will definately help their offense and can also play 1B or DH if he's not catching. Pineda moves to the Bronx and will likely be the Yankees third or fourth starter. Pineda struck out 173 batters in 171 innings last year.
3) Athletics trade LHP Gio Gonzalez and a prospect and to the Nationals for RHP Brad Peacock, LHP Tom Milone, and two prospects
The A's had just signed Gonzalez to a five year extension the season prior to this trade. Gonzalez made his first All Star team in 2011, but he did lead the AL in walks. Oakland does get two solid pitching prospects out of this deal along with two lower level prospects. Time will tell to see if this was a Mark Mulder trade or a Tim Hudson trade for Billy Beane.
2) Athletics trade RHP Trevor Cahill and LHP Craig Breslow to the Diamondbacks for RHP Jarrod Parker, OF Colin Cowgill, and RHP Ryan Cook
Cahill fell off his 2010 form when he won 18 games with a 2.97 ERA and had a 4.16 ERA last year. Cahill was also signed to a long term extension by Beane a year before his trade. Parker is the centerpiece of this deal for Oakland, but he is less than a year younger than Cahill is. Parker also missed 2010 because of Tommy John Surgery, but scouts consider him to have ace potential. Still, Cahill was a proven commodity signed to a reasonable deal. I'm not sure if this deal makes sense for the A's, but we'll see.
1) Reds trade 1B/OF Yonder Alonso, RHP Edinson Volquez, C Yasmani Grandal, and RP Brad Boxberger to the Padres for RHP Mat Latos
This was the biggest deal of the offseason, and should work out well for both teams. The Reds get a top flight starter in Latos and the Padres get the Reds top prospect in Alonso. Latos makes the Reds pitching staff more formidable and Alonso could end up being the Padres best hitter. Both areas were weaknesses for their respective clubs. Volquez might pitch better in San Diego than he did in Cincy's bandbox. The Padres also recieved Grandal, a catching prospect, and Boxberger, a relief prospect. Reds GM Walt Jocketty made these type of trades often in St. Louis, with most of them being successes except for the Mulder for Haren deal. The Reds also control Latos for the next four years.