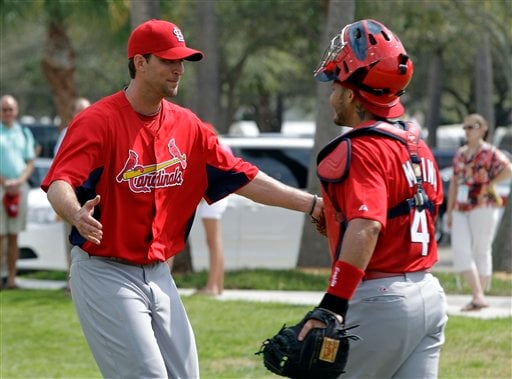 2012 is Yadier Molina's last season on his five year 21 million dollar extension he signed in 2007. The Cardinals front office and Molina's agent have been working on an extension but earlier this week it looked like contract talks were over. Molina's agent Melvin Roman insists that Molina wants market value and will not accept a hometown discount. Molina did say he liked playing in St. Louis and wanted to get something done though. According to the Post Dispatch, the two sides have gotten back together and talks are going in a positive direction.
I'm not for sure how much money Yadi is looking for, but I hope the two sides can come to a reasonable deal. Molina would be hard to replace, and there would be a significant downgrade by any internal options. Mike Napoli of the Rangers is also up for free agency after the season, but I would expect him to command just as much money as Yadi would. Alot of people wonder if Yadi wants to join his best friend Albert Pujols with the Angels as well. Losing Pujols was tough, but replacing a All Star first baseman is easier than replacing an All Star catcher. The Cardinals front office said that not signing Pujols would give them the flexiblity to re-sign current players and keep a competitive team. They should make an aggressive push to re-sign him.
Reportedly, Molina wants a five year deal around 10 million plus a year. Molina will turn 30 this season and that would carry over til Yadi is 35. There's a chance Molina could be broken down at the end of the deal, but at least he's not asking for a longer deal. Since 2005 he has caught more games than any other catcher during that time. So he's durable, but most catchers don't age well either. Molina is also coming off a career year offensively, posting career highs in numerous categories. He still is the best defensive catcher in baseball, and is a good handler of pitchers.
Tony Cruz is likely to be Molina's backup this year since Gerald Laird was not retained. Cruz faired well during the time he was called up last year. It wouldn't hurt to start Cruz once a week to give Yadi a rest and to see what he's capable of in case Molina doesn't stay. Even if Molina re-signs, the Cardinals should think about drafting a top tier catcher in the next couple of years. Catcher is the weakest spot in the organization. The Cardinals had slugging first baseman Matt Adams in Double A last year, and he looks to be Pujols eventual successor. There is no catcher in the system that looks like a starting caliber catcher.
Spring Training Notes: Ozzie Smith will be a guest instructor this year and will be working with the middle infielders and help with baserunning. Smith has stayed away from spring training in past years due to his feud with former manager Tony La Russa late in his playing career. New manager Mike Matheny reached out to Smith and former manager Whitey Herzog in the offseason. He's also talked with La Russa too, but he won't be a guest instructor in camp. He will be attending the season opener though.
Matheny also hopes to increase base stealing this year, after last year's meager total of 57 steals in 96 attempts. It was last in the NL and the Cardinals were only successful 59% of the time they tried to steal. I'm happy to hear that Matheny has emphasized this myself. Matheny was quoted recently saying "If you have some speed, show it. That's going to be the philosophy. If guys have speed in their repertoire, they certainly need to display it and improve on it and take advantage of some of the special instructors we have in here."
Tyler Greene led the team with 11 steals last year despite spending most of the season in Triple A. Greene looks to be part of a platoon at second base with Daniel Descalso this year. New Cardinal Carlos Beltran has the highest success rate of any active player at 85%(293 for 334). Rafeal Furcal isn't as fast as he used to be, but is still capable of stealing bases. Younger players like Jon Jay, Allen Craig, Adron Chambers, and Greene are capable of stealing more bases too. Matheny will have Lou Brock, Ozzie Smith, and Willie McGee in camp to teach baserunning tips. Brock is second alltime in steals with 938 and Smith stole 580 bases during his career. McGee was an excellent baserunner as well during his career.